Studies
Metis Nation Studies: Role of Government In Health Care
Metis Nation Studies: Role of Government In Health Care
The role or government in healthcare is quite far reaching. The health sector is going to get quite big in the coming decades.
Canada's universal, publicly funded health care system — was established through federal legislation originally passed in 1957 and in k1966. The Canada Health Act of 1984 replaces and consolidates the two previous acts and sets national standards for the medically necessary hospital, diagnostic, and physician services. To be eligible to receive full femeral cash contributions for health care, each provincial and territorial (P/T) health insurance plan needs to comply with the five pillars of the Canada Health Act, which stipulate that it be:
Publicly administered
Comprehensive in coverage conditions
Universal
Portable across provinces
Accessible (for example, without user fees).
Role of government: Canadian P/T governments have primary responsibility for financing, organizing, and delivering health services and supervising providers. The jurisdictions directly fund physicians and drug programs, and contract with delegated health authorities (either a single provincial authority or multiple subprovincial, regional authorities) to deliver hospital, community, and long-term care, as well as mental and public health services.
The federal government cofinances P/T universal health insurance programs and administers a range of services for certain populations, including eligible First Nations and Inuit peoples, members of the Canadian Armed Forces, veterans, resettled refugees and some refugee claimants, and inmates in federal penitentiaries. It also regulates the safety and efficacy of medical devices, pharmaceuticals, and natural health products, funds health research and some information technology systems, and administers several public health functions on a national scale.
At the national level, a variety of governmental agencies oversee specific functions:
Health Canada, which is the federal ministry of health, plays a key regulatory role in food and drug safety, medical device and technology review, and the upholding of national standards for universal health coverage.
The Public Health Agency of Canada is responsible for public health, emergency preparedness and response, infectious and chronic disease control and prevention, and health promotion.
A new federal government department, Indigenous Services Canada, funds certain health services for First Nations and Inuit.
Most providers are self-governing under P/T law; they are registered with a provincial regulatory body (such as the College of Physicians and Surgeons) that ensures that education, training, and quality-of-care standards are met.
Most provinces have an ombudsperson who advocates on behalf of patients.
Role of public health insurance: Total health spending is estimated to have reached 11.5 percent of GDP in 2017; the public sector and private sector accounted for approximately 70 percent and 30 percent of total health expenditures, respectively.1 Each P/T health insurance plan covers all medically necessary hospital and physician services (on a prepaid basis). Supplementary services, or those not covered under Canadian Medicare, are largely privately financed, either from patient out-of-pocket payments or through employer-based or private insurance.
Provinces and territories cover all of their own residents in accordance with their respective residency requirements.2 Temporary legal visitors, undocumented immigrants, visitors who stay in Canada beyond the duration of a legal permit, and those who enter the country illegally are not covered by any federal or P/T program. Provinces and territories provide limited emergency services to these populations — no physician or hospital can refuse to provide care in an emergency, and midwives provide some maternity services.3
The main funding source is general P/T government revenue. Most P/T revenue comes from taxation. About 24 percent (an estimated CAD 37 billion, or USD 29.4 billion, in 2017–2018) is provided by the Canada Health Transfer, the federal program that funds health care for provinces and territories.4
Role of private health insurance: Private insurance, held by about two-thirds of Canadians, covers services excluded under universal health coverage, such as vision and dental care, outpatient prescription drugs, rehabilitation services, and private hospital rooms. In 2015, approximately 90 percent of premiums for private health plans were paid through employers, unions, or other organizations under a group contract or uninsured contract (by which a plan sponsor provides benefits to a group outside of an insurance contract). In 2017, private insurance was estimated to account for 12 percent of total health spending. 5 The majority of insurers are for-profit.6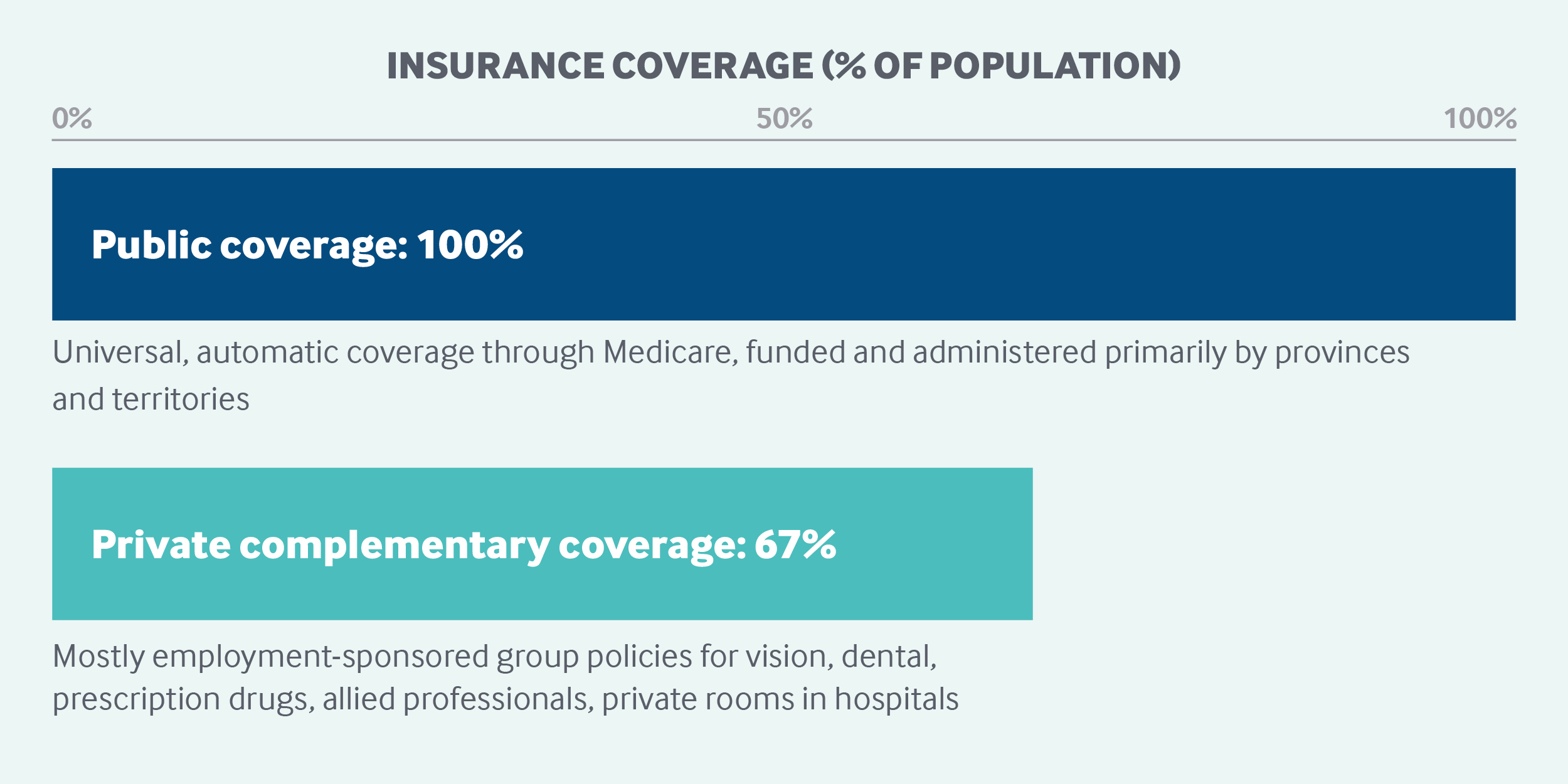 THE MOST POWERFUL SALE & AFFILIATE PLATFORM AVAILABLE!
There's no credit card required! No fees ever.
Create Your Free Account Now!
Services covered: To qualify for federal financial contributions, P/T insurance plans must provide first-dollar coverage of medically necessary physician, diagnostic, and hospital services (including inpatient prescription drugs) for all eligible residents. All P/T governments also provide public health and prevention services (including immunizations) as part of their public programs.
However, there is no nationally defined statutory benefit package; most public coverage decisions are made by P/T governments in conjunction with the medical profession. Because of this, coverage varies across P/T insurance plans for services not federally mandated as medically necessary, including outpatient prescription drugs, mental health care, vision care, dental care, home care, midwifery services, medical equipment, and hospice care.
Most provinces have public prescription drug coverage programs for specific populations, such as recipients of social assistance, seniors aged 65 and older, and children and youth. Some programs charge premiums, often income-related.7
There are some health services that, for the most part, are not covered by any P/T insurance plan, including dental services, physiotherapy, psychologist visits, chiropractic care, and cosmetic or plastic surgery.
Cost-sharing and out-of-pocket spending: There is no cost-sharing for publicly insured physician, diagnostic, and hospital services. Physicians are not allowed to charge patients prices above the negotiated fee schedule.
In 2016, out-of-pocket payments were estimated to represent about 15 percent of total health spending; the majority was spent on nonhospital institutions (mainly long-term care homes), prescription drugs, dental care, and vision care.8
Safety nets: To help cover needed prescriptions, provinces and territories provide outpatient drug plans to some individuals lacking private employer-sponsored insurance. Most P/T outpatient drug plans operate as payers of last resort, targeting people on social assistance or of retirement age. These plans vary considerably. For instance, Quebec administers a universal drug plan by mandating that eligible individuals have private coverage and enrolls those not eligible for private coverage in the public plan. In contrast, Ontario, Canada's most populous province, administers a universal prescription drug program for seniors, children and youth without private coverage, and recipients of social assistance.
P/T governments also provide some relief for people with high out-of-pocket expenses. After citizens pay more than 3 percent of their net income, or CAD 2,288 (USD 1,816), whichever is less, for eligible medical expenses per year, they can receive a 15 percent tax credit for any remaining expenses.9
In addition, provinces and territories pay for accommodation and food expenses (beyond nursing care) of indigent individuals in publicly financed long-term care facilities.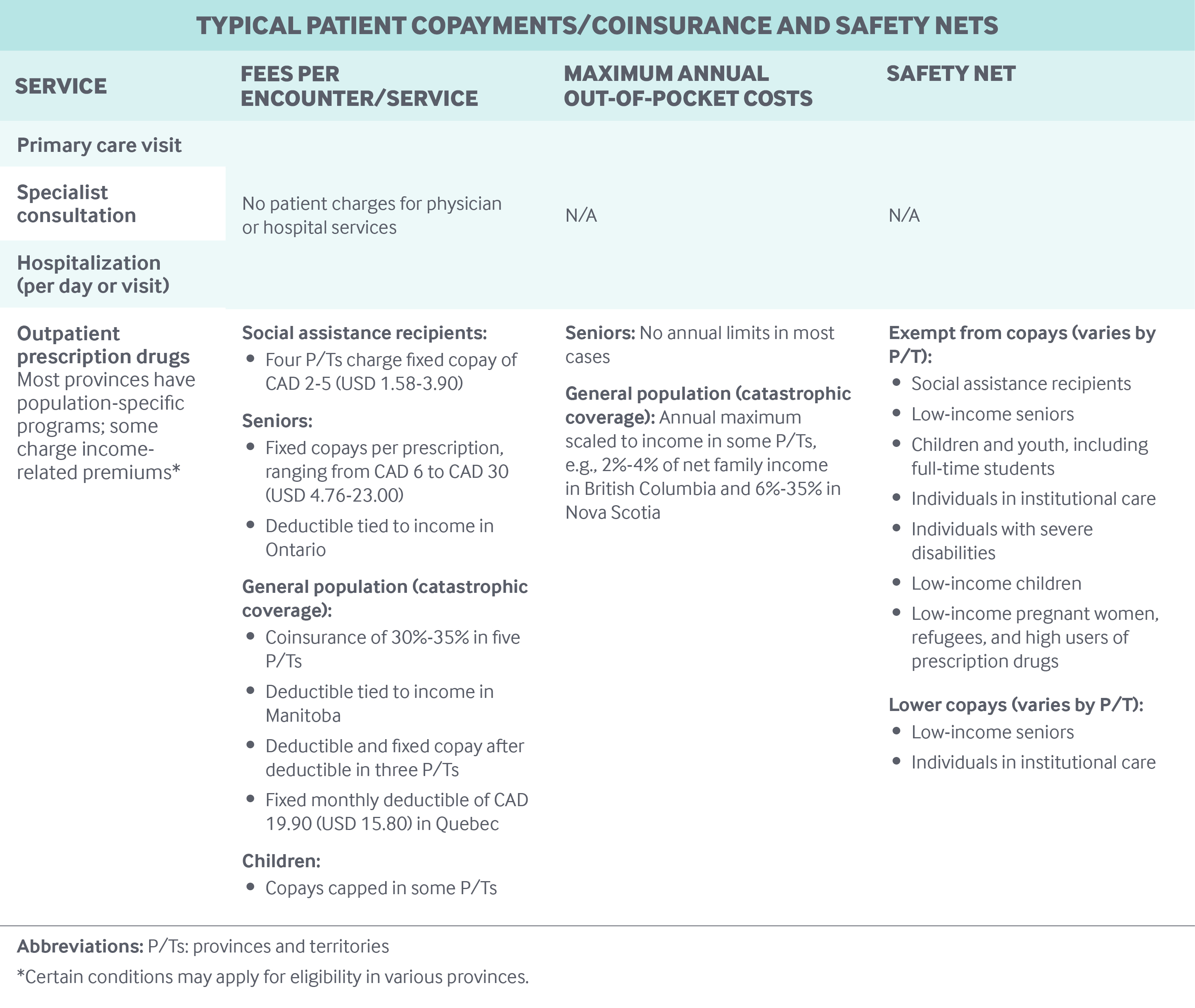 Subscribe to the newsletter news
We hate SPAM and promise to keep your email address safe